One thing Chip and I still like to do together, though we haven't had as many opportunities to do so lately, is cook together. Sometimes that means we create one dish together (I'm often the sous chef) and sometimes that means we create a (more complex) meal together, each doing one or two parts of the menu. Carissa and Bryan were over recently for belated Christmas, and we made pork and beans. But not just any pork and beans. [grin]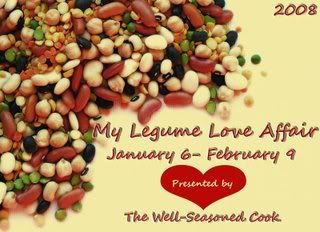 One of my recent recipe recommendations was a Tuscan-style pork, which is what Chip made. I chose to make Warm White Beans in Crème Fraîche with Winter Herbs (I know, a mouthful--it's as bad as that pork recipe name) to complement, and to have an entry for a
legume event
! I kind of had trouble deciding what to make, as I really do love legumes and have lots of recipes I either want to try or to make again (like baked beans--I have a bean pot and a ham bone!).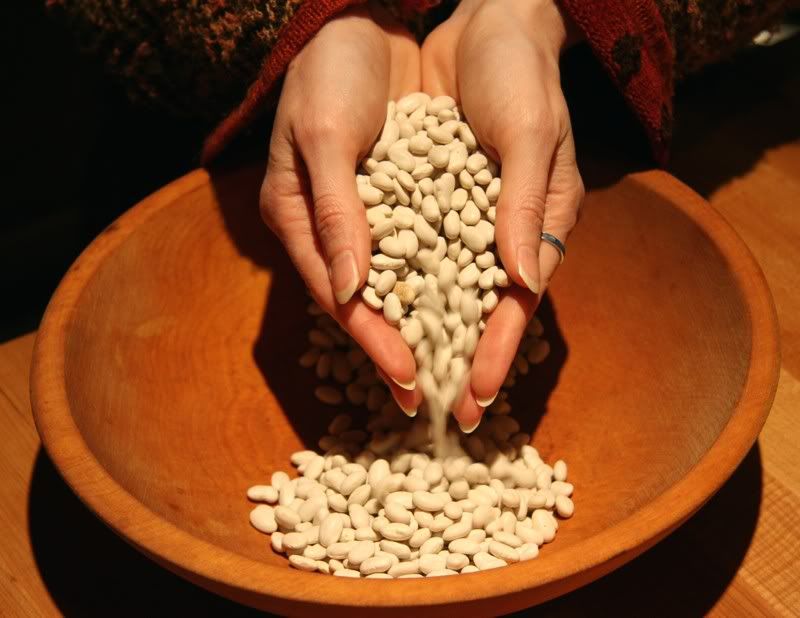 This recipe is from a French cookbook (see the book recommendation below) that divides recipes into seasons, which I think is fantastic. Several people are doing local food as their contribution to being green, and something like this helps a lot to know what's in season or appropriate for a certain month. Crème Fraîche isn't too available in the U.S. (at least that I've found--maybe in bigger cities), but it's easily replicated. This recipe is delicious, especially as a leftover, warmed up the next day!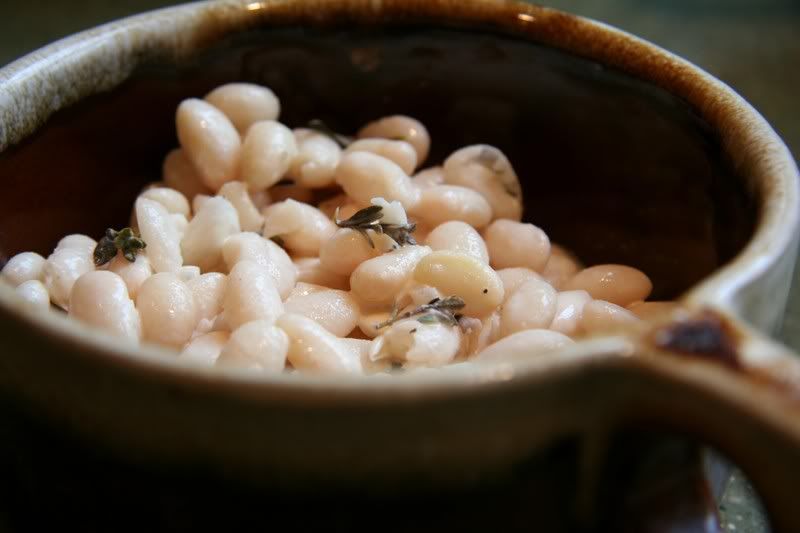 2 c frozen fresh or 1 ½ c dried white haricot, cannellini or Great Northern beans
4 ¼ c winter stock, or half chicken stock and half water
1 onion, cut in half, stuck with 4 cloves
1 carrot, trimmed and cut into ½-inch rounds
1 bay leaf
4 springs thyme
2 branches rosemary
1 c crème fraîche (1 c. heavy cream and 1 T. buttermilk--make this ahead of time to sour properly)
coarse salt and freshly ground pepper
1. If making this with dried beans, place them in a bowl, cover with water and soak overnight. Drain and rinse, picking out bad beans.
2. Place beans in a medium saucepan, cover with water and bring to a boil. Drain and rinse. In the same pan, combine the beans, 3 cups of water, 4 cups of stock, the cloved onion, carrot, bay leaf, 2 sprigs of thyme and 1 branch of rosemary. Bring to a boil and cook until the beans are tender (about 50 to 60 minutes). They should not be falling apart. Drain, discarding the onion, carrot and herbs.
3. Return the beans to the pan, add the remaining ¼ cup of stock and the crème fraîche. Season with salt and pepper. Slowly reheat the beans over medium-low heat. Meanwhile, strip the remaining rosemary branch and chop the leaves fine. Strip the remaining thyme spring and mix with rosemary. Add herbs to beans and serve warm.
I pretty much followed this as is, though I didn't make the winter stock (if you're ambitious, let me know if you want her recipe for that)--I used the half chicken stock and water combo. I also didn't age my crème fraîche like I was supposed to, but did add a little extra buttermilk to give it more tang.
Thanks to Susan for putting together this event!
Book recommendation: The Cook and the Gardener by Amanda Hesser
Recipe recommendation: Warm White Beans in Crème Fraîche with Winter Herbs
Game recommendation: 9 Dragons Hexa